Esta es una nueva modalidad de Madero Tango. Ubicado, en alguno de nuestros exclusivos salones con todas las mesas con excelente vista al Río, podrás deleitarte con nuestro Menú a la Carta. Se requiere reserva previa por teléfono o WhatsApp.
Madero Tango y Casino of Buenos Aires, te regalan $ 1000.- por persona en FREE PLAYS para extender tu experiencia y tentar tu suerte (sólo para mayores de 18 años).
Con y sin alcohol a la carta
Vegetales de Tempura de Cerveza con Mayonesa de Albahaca
Boconccinos Marinados con Filetto
Empanadas Fritas de Carne (2)
Fingers Picantes de Pollo y Panko
Sorrentinos de Berenjena Asadas con Salsa de Miel
Fideos de Tinta de Calamar con Fondue de Tomates
Bondiola Sellada en Salsa de Soja, Puré de Batata al Tofee y Manzana a la Sidra
Brochettes de Pollo con Zapallo Laqueado a la Miel
Milanesa de Bife de Chorizo (bien gruesa) con Papas Fritas a la Provenzal
Entraña Trenzada con Provoleta, Ensalada de Verdes y Frutos Rojos
Bife de Chorizo Argentino con Manteca de Chimichurri y Papas Paille
Salmón, Choclo y Ananá grillados; Salsa Agridulce con Sésamo y Jengibre
Brownie de Frutos Secos con Helado y Emulsión de Dulce de Leche
Vinos (Botellas de 750 cc)
Special menus available in the room (Children's, Vegetarian, Vegan, Hyposodic, Suitable for Celiac and others). Ask us!
Other Dinner Show Options
You get free plays to extend
your experience and test your luck

For every dinner show you buy,
para jugar GRATIS en el Casino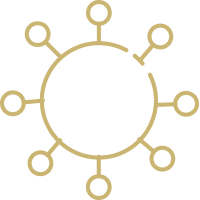 Purchase safely: Commercial policies 100% flexible
Arrive and stay safely: Special reinforced ventilation system
Spaces redesigned with guaranteed distances
Authorized Protocols for employees and visitors